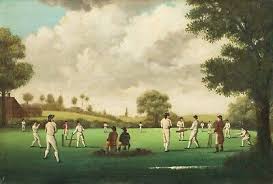 As far as exhaustive study is able to discern, Karl Marx never pronounced on the game of cricket. A rare ideological lacuna, the absence came as profound relief to Joe Keats, 1900-1950, he a stalwart of the Militant Minority Movement, believer in the inevitable progress of historical materialism, and lover of the game. The Mentor, Joe suspected, had he turned his considerable intellect to the subject, might well have disapproved of the activity on numerous grounds, all of which Joe had elected to ignore when it came to donning the flannels. For Joe had discovered early on that batting calmed the fevered political mind. At bat, all he thought about was the ball. And to which part of the field he might despatch it. Fielding likewise soothed, unless assigned to the outfield against weak opposition, whence, the ball rarely visiting such precinct, the mind became prey to dialectical conjecture. Joe preferred to field in the slips. There was no time for political thought in the slips.
The 1932-33 England-Australia "Bodyline" series was to cause particular perturbance to Joe Keats. English fast bowlers Larwood and Voce were coalminers. Bradman was bourgeois. There were long dark nights of ideological brawl with Moscow-aligned Shug Meiklejohn.
Larwood and Voce had been rescued from the Nottinghamshire pits by professional cricket. No such escape was to present itself to Joe. That son Cedric evinced total disinterest in the game was, in a way, more disappointing than the offspring's drift to Trotskyism and beyond.
Off season, uninterested in football, Joe would attempt to ease his troubled mind in contributing articles of impeccably impenetrable revolutionary logic to The Red Leader, organ of the MMM, and Miners Federation paper Common Cause. Most if not all of his submissions were deemed too prolix for publication, let alone digestion.
Joe went on to recruit and captain the only recorded all-communist cricket team to play the game. The Red XI enjoyed a single season in a northern coalfields competition, losing every game, before disbanding. Love of the game saw Joe content to play beside reformists and other moderates, whilst drawing the line at teaming with management.
Joe Keats died in 1950, of lockjaw, symptom of tetanus infection, in all probability the outcome of slashing a foot on ancient corrugated iron, remains of a pioneer miner's shanty unearthed in the back garden.
(Excerpt from "52 Graves : A Workingman's Cemetery". See main menu for full text.)